As we head into spring, now is an ideal time to plan for updating and freshening up your front yard, especially if you're planning to list your home on the market soon.  In addition to cleaning up your landscaping, making repairs from winter storm damages and a fresh coat of paint, there are several quick and easy ways you can take your curb appeal up to the next level and draw potential buyers in wanting to see more.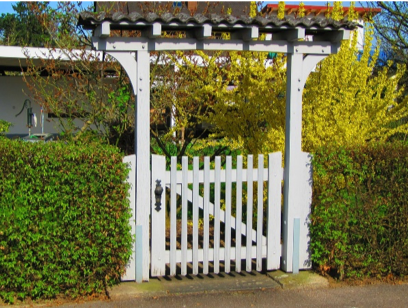 First impressions make lasting impressions.  If your front gate and fencing have seen better days, up their appeal with the addition of a trellis or arbour lattice to highlight the entrance to your property. Planting a fast-growing climbing vine like wisteria or honeysuckle will fill in the area with a fresh burst of natural colour too.
Stepping stones and walkways help guide visitors to the door.  Add in outdoor lighting to enhance these areas. You can go as simple as solar light stakes or bring in some extra charm with string lights or a decorative garden set.
If you need to replace your front door or just freshen it up, choosing a bold colour that contrasts well with the main colour of your home will draw the eye in and make a memorable impression.  Enhance the look of your door or porch with stylish house numbers. Custom tiles with your address can make your home or cottage one to remember in a long line of viewings.
Potted plants along the porch or steps will draw visitors in with an addition of colour and vibrancy without overwhelming.  Incorporate hanging baskets and flower boxes to create attractive symmetry. Updated lighting and a new welcome mat will finish the look.
Including outdoor furniture in your front yard is an excellent way to create a welcoming atmosphere and will enhance your properties curb appeal with ease. Porch swings are making a come back in the latest home and garden trends. If space allows for a sitting area with a table, you can encourage visitors to stop within your front yard and take the space in from a different perspective.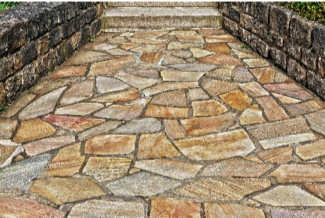 If your landscaping needs freshening up, consider incorporating a berm within your front garden. A berm is a gently sloping mound which helps with drainage and also makes for an excellent focal point for garden plants. Adding in hardscaping features such as a gravel path lined with bricks or low flagstone borders around flowerbeds will add a sense of drama to your front yard.
Find more spring curb appeal ideas with this article at HGTV Canada. When it's time to buy or sell your Muskoka home, cottage, or condo,  Rick Wearing & Sandra Parrott are here to work in partnership with you to receive the result you strive for!  Rick & Sandra have the local real estate experience you can rely on. Choose a partnership you can trust and let them put their expertise to work for you. Please call Rick & Sandra at 705-788-3535 or email at info@WearingParrottTeam.com today!
This information is taken from sources deemed to be reliable. The Wearing Parrott Team does not guarantee accuracy; we recommend information be validated independently.